20
/
40
/
60
Sort:
Price: lowest first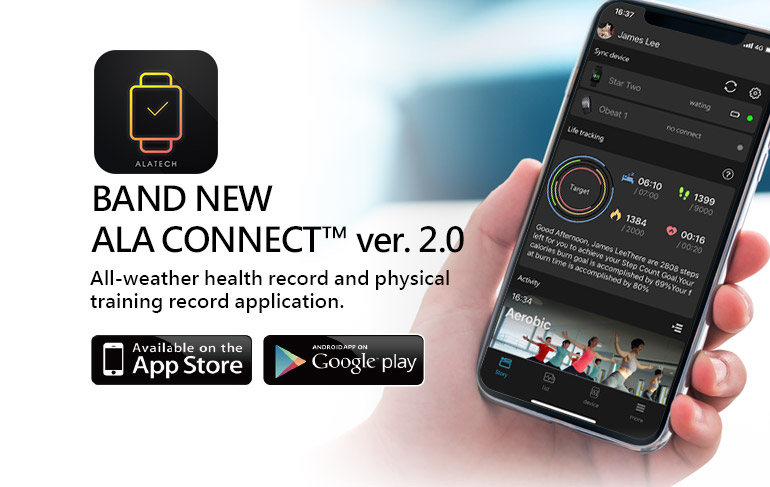 ---
2021 Brand New AlaConnect™ ver. 2.0
•Clear display of personal data based on daily health tracking and activities.
•In-depth analyses with colorful charts help you to visualize and comprehend your progress easily.
•Newly added health overview to help you monitor the subtle physical changes such as weight, muscle, and body fat rate.
•With the most up-to-date daily life tracking, you can achieve small wellness goals every day, such as improving on step count, sleep habit, and heart rate.
•Highly integrated with AlaFitnesst™ that you won't miss out on receiving your activity and daily life records.
•Quick account registration and activation
AlaConnect™ an App for Wearable Devices
When paired with a compatible wearable device¹, the device will collect your daily data such as step count and sleep quality. You can record your sport activities, such as running, cycling, swimming, weight training, ball games, indoor fitness activity, and more. When you sync the device with the app, all the data will be recorded and stored on the cloud-based platform.
After your workout, you can view data such as distance, speed, cadence, weight, calorie burn, etc. You can also view all the important data and analysis reports on this app.
¹ Compatible Alatech devices: smart wearable devices
AlaConnect™ an App That Understands Your Determination for Fitness:
•Set up and view your daily health goals
•Personalized health goals, such as cadence, sleep, calories- burn time.
•Analysis for recorded activities and other related data.
•Get information on updates and support info about Alatech devices
Technical Support:
AlaConnect™ connects with devices through Bluetooth® wireless technology. However, the Bluetooth® function on some devices might not perform properly which causes poor user experience with the AlaConnect™ app. If it appears on your app that you are having an unstable Bluetooth® connection, please be sure your devices and app have both been updated to the latest version.