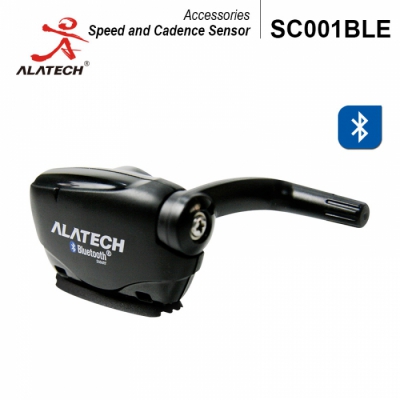 SC001 BLE 4.0 Speed and Cadence Sensor
Product code:SC001
Quantity:
★ Bluetooth wireless technology.
★ Two funtions in one device.
★ It tracks your pedaling rate and biking speed at the same time.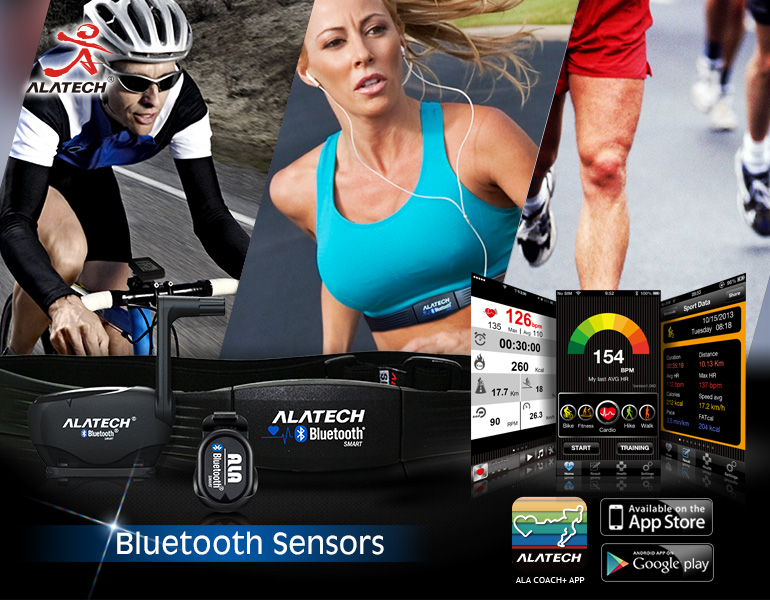 Features

---

| | |
| --- | --- |
| | Bluetooth 2 in 1 Speed and Cadence sensor could compatible ALA COACH+ App or other fitness App which support Bluetooth Smart 4.0, and track the cadence, speed and distance during riding, to help control the stamped , stable the physical strength, improving the riding efficiency. |

One device but have two function could monitor cadence and speed in the same time, reduce the weight of bike equipment well.
Use the Smartphone as the cycle computer, could remove the weight of cycle computer, the reducing weight could make you ahead of the pack.
With low power, high performance Bluetooth Smart 4.0 wireless technology.
The connecting with simple, reliable way, transmitter the movement information to ALA COACH+ app directly, to track your cadence, speed, and distance data.
Help control the stamped, stable the physical strength, improving the riding efficiency.
The speed sensor lever could move back and forth to the best position with different kind bike.
Suitable for any Apps which could support Bluetooth Smart 4.0.
Recommend to use Cyclaid 10 cycling computer or download ALA COACH+App



Notice

ALATECH SC001 Bluetooth Smart 4.0 Speed and Cadence Sensor is compatible and applicable with built in Bluetooth smart 4.0.
Please install relate fitness APP with your smart phone(Ext: ALA Coach+、Runkeeper、Wahoo,Fitness、Digifit、ibiker、Runtastic Pro、Endomondo….etc.), Then you could track your heart rate, calorie burned, and training intensity in App.
When using the ALATECH SC001 Speed and Cadence Sensor for the first time, you need to pair the

Speed and Cadence Sensor

with your receiving device according start up instructions, and move away (20M) from other sensors while receiving device is trying to pair with your ALATECH SC001.




Application

---

Features

Integrates Music Playing.

Multiple Activity Preference Choosable.

Creates Personalized Programs.

Maps GPS Location.

Captures Run Laps.

Measure Exercise Intensity (real-time heart rate,maximum heart rate, average heart rate).

Calculates Caloric Expenditure (calories, fat-calories, fat and carbohydrates percentage).

Shares Your Workout.

Allows Background Execution during Another Application Running or in Sleep Mode.


Records and tracks the progress of your calorie, weight, blood pressure, resting pulse, and sleep. Helps you do the self health management. ALA Coach+ app is free download in the Apple App Store, Google Play and compatible with many Bluetooth® Smart (BLE 4.0) sensors and fitness devices. ALA Coach+ app supported mobile devices with Bluetooth 4.0.




Track Your Activity




ALA Coach+ tracks your real-time heart rate,maximum heart rate, average heart rate, calories, distance, duration, steps, cadence, speed, pace, gradient and more.

Personalized and Optimized




ALA Coach+ helps you to determine your own personal fitness level. Different people have different goals such as health issue, weight loss, or performance enhancement. It provides accurate heart rate zone for you to follow.

View the Details and Progress




ALA Coach+ summarizes your workout valuable data. It also maps your routes, gives you great in workout graphs and metrics, and so much more!